My Child's First Orthodontic Screening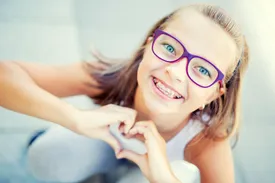 The CAO (Canadian Association of Orthodontics) and the AAO (American Association of Orthodontics) recommends that every child should see an orthodontic specialist by the age of 7. Early consultation allows the orthodontist to determine the optimum time for treatment to begin. Some orthodontic problems are easier to correct if detected early rather than waiting until all permanent teeth are present or jaw growth has slowed. Early treatment may mean a patient will avoid surgery or more serious corrections later in life.
Benefits of Early Treatment
The goal of early treatment is to intercept the developing problem, eliminate the cause, guide the growth of facial and jaw bones and provide adequate space for incoming permanent teeth. A patient will likely require a second course of treatment after all permanent teeth have come in to move these teeth into their best positions.
What Should be Treated Early?
The kinds of problems orthodontists may recommend treating early (while some baby teeth remain) include:
Underbites - When the lower front teeth are ahead of the upper front teeth
Crossbites - When upper teeth are positioned inside the lower teeth and may be accompanied by the jaw shifting to one side
Very crowded teeth
Excessively spaced teeth
Extra or missing teeth
Teeth that meet abnormally or not at all
Thumb-, finger-, or pacifier-sucking habits that affect the teeth or jaw growth
For more information you can visit the CAO or AAO websites.